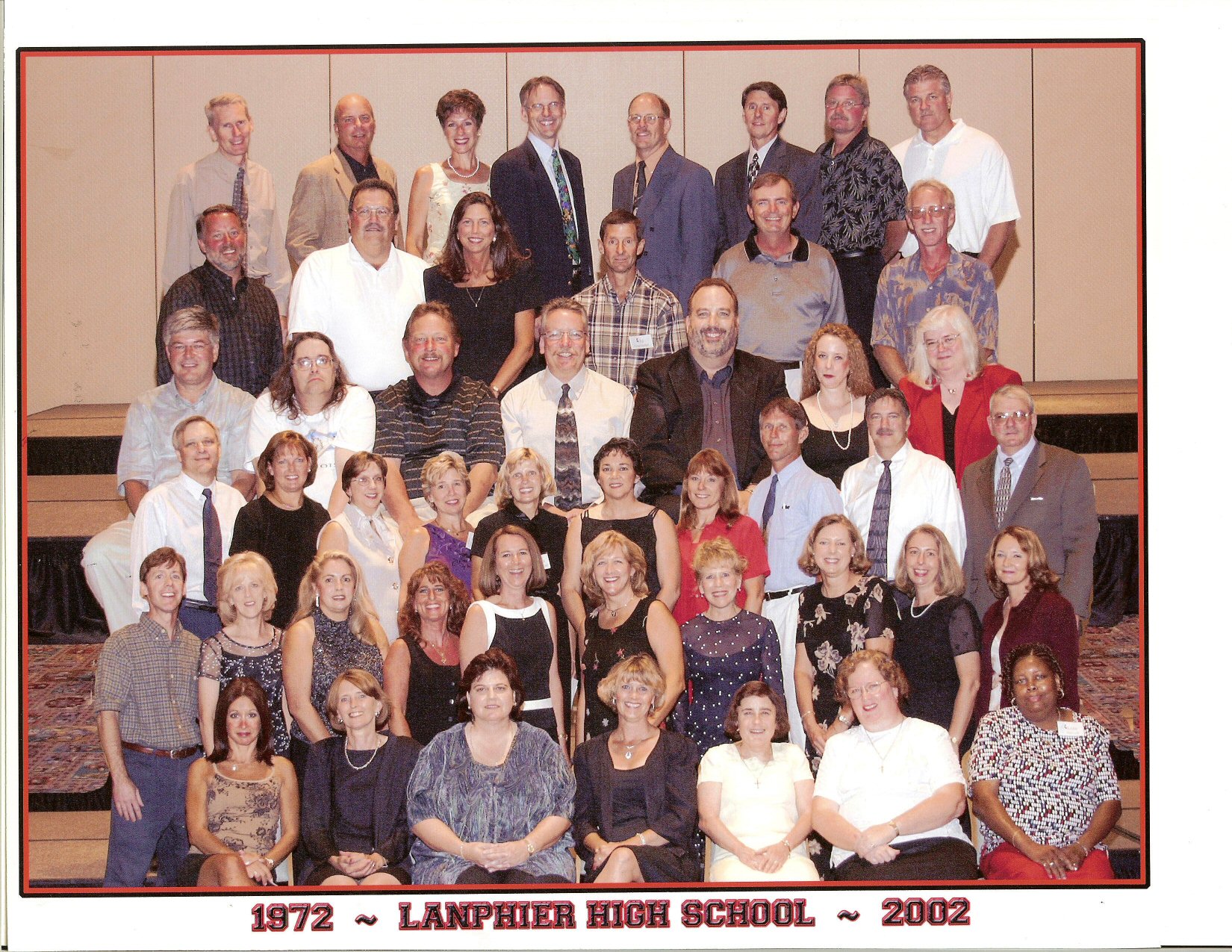 Special thanks to Alan Ault for sending the reunion picture to put online and Collette Iocca Hohmier for identifying all the Lanphier Reunion Class of 72 in the picture. Also, thanks to the Lanphier Class of 72 Alumni on Facebook that gave there input and support during the identification process.
Top Row: Jerry Heintze, Dave Wieties, Colette Iocca Hohimer, Ed Graddy, Gene Bourgasser, Tim Geist, Ted Alstott, Jim Kopatz.
Row 2: Don Brincken, Dan Adkins, Debbie Bressan Adkins, Al Giacomini, Jim Kane, Mark Hankins.
Row 3: Mike Badger, Jim Bryant, Dan McKibben, Kelly Thomas, David "Goose" Simmons, Janet Foster, Sharon Clark.
Row 4: Charles Nerone, Nancy Curtis, Elaine Nesposchlan Rodgers, Rita Ressler Griffith, Gloria Kimsey Pfaff, Karen Cox Woods, Linda Kerske, Gary Rushing, Bob Vose, Joe Hopkins.
Row 5: James Claunch, Debbie Tobin, Donna Biesenthal, Denise Groves Schantz, Linda Adams Walker, Susan McDow Fulks, Becky Maurer, Jodi Bond Bonnett, Yvonne Jean Vespa, Ronda Boyce.
Row 6: Linda Midiri Winters, Jean Ballard, Sheryl Reynolds, Jeanine White, Janice Bubb, Becky Corlew, Lola Harvell.